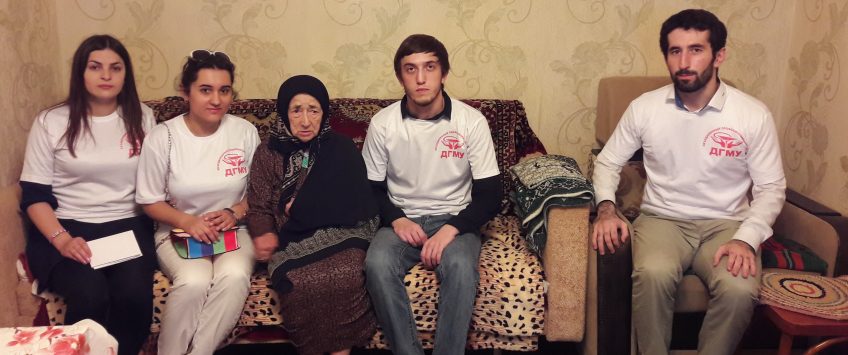 Students Trade Union Committee DGMU together with students of the College of Medicine at the University at the event dedicated to the Day of Military Glory (8 September), visited the World War II veterans from among Dagmedinstituta graduates. This Hope G. Martynenko, Kebedov Murtuz Magomedovich Musayev Omar Halimbekovich, Yarahmedova Izhizhat Magomedovna, Nahibasheva Patimat Muslimovna.
The meetings were held in a good home environment in which a cup of tea veterans shared their memories of the war found them at his desk Medical Institute.
Veterans told about how because of the war in the curriculum of the university underwent significant restructuring. So, for example, the training period has been reduced from 5 to 4 years. In the departments of paramount was to study the basics of military surgery, epidemiology, toxicology and military hygiene, and the university was evacuated in Derbent, where he remained until the defeat of the Germans at Stalingrad.
Not forgotten their deeds and in our time. With pride in his voice told veterans that on every holiday they get a letter from Russian President Vladimir Putin!
Professors and academics eagerly shared their memories of the years of work within the walls of our university and were genuinely pleased to be able to transfer the accumulated wisdom and experience to the younger generation. The meeting ended with a joint photo on the memory and the award of greeting cards and food packages.